Construction
Plastic machine components are state of the art today even in heavy lift applications. Plastics are extremely durable and sturdy, they are mouldable and very light, and they can be produced more quickly and cost-effectively than metal.
Using modern machinery and optimal materials from our own production, we manufacture rope sheaves, track rollers and guide sheaves for you as well as sliding and support components in small or large series: accurately, quickly, economically – and in consistently good product quality. Our manufacturing and machining capabilities puts us among the top companies worldwide.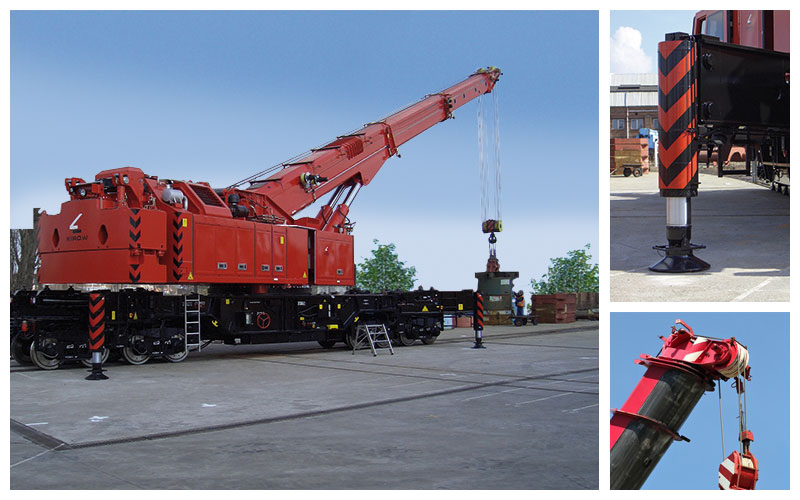 Typical applications for machine components
Advantages for these applications made of LiNNOTAM
low running noise
low weight
high resistance to wear
high corrosion resistance
cost-effective production
maintenance free
wire rope preserving elasticity
high impact and shock resistance
high loading capacity
high recovery when deformed
almost any manufacturable shape
best test results
good sliding and emergency-running properties
good creep strength
high pressure resistance
long service life
Rope sheaves made of LiNNOTAM
Longer lifetime for wire ropes!
Fields of application: Truck cranes, lattice-boom cranes, portal-handling crane, lifts, ropeways, stranding, wire-drawing and reeling machines and similar applications. Rope sheaves of LiNNOTAM, LiNNOTAMGLiDE or LiNNOTAMHiPERFORMANCE 612 are suitable for high loads and have been tried and tested in many years of use. Compared with steel sheaves, they reduce rope surface pressure tenfold – and considerably increase the lifetime of your wire ropes.
And another benefit: LiNNOTAM rope sheaves dampen and/or absorb bearing damaging vibrations from the wire rope and increase the lifetime of the driving line and that of the bearing elements.
Outtrigger float pads made of LiNNOTAM
Secure base for mobile application!
Fields of application: Truck cranes, mobile cranes, mobile concrete pumps, auxiliary cranes, manlifts, mobile drill rigs and similar applications Based on LiNNOTAMHiPERFORMANCE 612 , we produce support components such as float pads which withstand the greatest loads. Compared with steel plates, they provide very high recovery during deformation – making them ready for you to use for a much longer period.
And another benefit: The low weight of LiNNOTAM float pads makes them easier to handle during use and assembly. The good material elasticity makes them sturdy and secure even if there are smaller bumps and edges. The material can be completely recycled and is resistant against fuels and lubricants.
Slider pads / wear pads made of LiNNOTAM
More stability for load peaks!
Fields of application: Telescopic stabilisers for mobile cranes, working platforms, telescopic loaders, truck cranes and similar applications Sliding elements, such as slider pads of LiNNOTAMGLiDE and LiNNOTAMGLiDE PRO T are tried and tested in use and are more durable than comparable elements of metallic sliding materials. The lubricants embedded in the polymer matrix reduce the sliding coefficient of friction by up to 50% - making your slider pads extremely wear resistant.
And another benefit: Structural parts of LiNNOTAMGLiDE and LiNNOTAMGLiDE PRO T provide faster recovery when subjected to shock loads. The materials are particularly tough as compared with other thermoplastic materials and permit considerably higher loads. At the same time, they are flexible enough to function securely at low temperatures or under shuck loads.