Food Technology
Engineering components for the food and beverage industry must primarily be clean, safe and durable! Products from the LiNNOTAM brand meet these requirements to the fullest extent. The addition of special additives has made Licharz one of the few companies able to manufacture "food grade" cast polyamide.
Licharz semi-finished products and engineering components made of cast polyamides such as LiNNOTAM or conventional plastics such as PET, POM or PEEK are an effective and economical alternative to stainless steel designs for the food industry. They are also distinguished by the high strength, corrosion resistance and light weight of the engineering components. They have multiple applications for the food and beverage industry such as conveyor technology, in plant construction or apparatus engineering.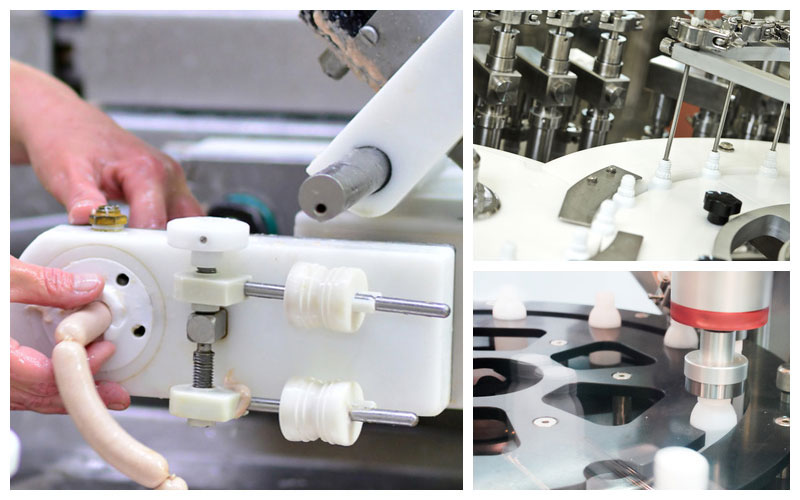 Engineered components for food technology
Extremely durable with a long service life!
Applications: Processing, transportation, packaging of food and beverages.
Whether for packaging machines, slaughterhouses, transportation or bottling plants, bakery, pasta and confectionery processing machinery, meat, fish and poultry processing machines or machines for cutting and portioning: we meet your most demanding standards with engineering components that we manufacture for you from LiNNOTAM and other plastics.
Parts such as grippers, guide elements, track rollers, support rollers, guide rollers and return rollers, cutting boards, and even general engineering parts and components from LiNNOTAM are highly regarded in the food industry because of the following properties:
light weight
colour stability
low cost of production
high corrosion resistance
chemical resistance (acids/alkalis)
high wear resistance (abrasive materials)
long service life and dimensional stability
We are happy to accompany you in the implementation of migration tests to assess an application according to your specifications. In addition we develop our own materials and test their suitability for contact with food. We are also pleased to offer training on "Topic EU/10/2011 – Plastics in contact with food".
Engineering plastics for highest standards
Fulfilling global standards and legal requirements!
LiNNOTAM cast polyamides from Licharz meet the requirements for dimensional accuracy, are resistant to corrosion, cleaning agents and disinfectants, are easy to clean and meet the highest standards on conformity in food processing in accordance with FDA, EU 10/2011 or 1935/2004.
The colour BLUE: We also provide plastic components coloured blue for improved visual control and to aid visual inspection in food processing.
Your choice: Due to the high loading that occurs in the numerous fields of application, engineering plastic such as LiNNOTAM offer a good and economic alternative to stainless steel designs for equipment and machinery in the food technology industry.
The following Licharz materials are specifically offered for the manufacture of components for the food industry:
PET FG / PET – GL
POM FG / POM – GL
PEEK FG / PEEK X
Our expertise for your production
Still have questions? We are always happy to answer!
With regards to declaration of conformity we offer specially trained personnel who regularly delve deeply into all aspects of this topic. These employees are also available to personally consult with and advise our customers. Take advantage of this direct line to discuss any outstanding issues with our team of experts!
Licharz offers expertise in other fields besides the production of semi-finished and engineering components for the food and beverage industry. We also offer a number of other equally high quality services with a view to:
Advice on all matters relating to the topic of conformity.
Development and in-process examination of the materials in our own factory laboratory to ensure materials of the highest quality.
Support in the design and choice of materials for your application.