Flame-retardant Cast Polyamide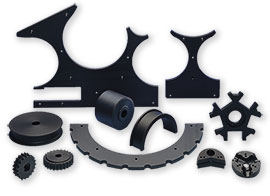 LiNNOTAMHiPERFORMANCE FR 600 and LiNNOTAMHiPERFORMANCE FR 1200 are the new "fire protection experts" of Licharz cast polyamides: Thanks to special additives, coupled with a new manufacturing process, the cast polyamides meet all safety requirements of the highest hazard level HL3 (Hazard Level 3) in accordance with the European fire safety standard for rail vehicles EN 45545-2.
LiNNOTAM
HiPERFORMANCE FR

- important characteristics
Ideal for rail transport
The materials LiNNOTAMHiPERFORMANCE FR 600 and LiNNOTAMHiPERFORMANCE FR 1200 not only offer reliable fire protection, but also all the benefits of Licharz cast polyamides: The exceptional sliding qualities, excellent impact strength as well as a low weight make these materials ideal for use in railway vehicles. In this sector they can be used e.g. for sliding plates, sliding rails, transition plates, rollers for door systems and buffers as well as train equipment.
Physiologically safe
The new LiNNOTAMHiPERFOMANCE FR is completely free of halogenated and inorganic flame retardants because we purposely avoid conventional substances that may present a health or environmental risk.
For use in new and older vehicles
LiNNOTAMHiPERFOMANCE FR 600 not only meets the new EN 45545-2 standard, but also the previously valid DIN 5510-2 as well as the NFF16101 standard. Cast polyamide can therefore be used in all new and older railway vehicles.
Fire protection standard required from 2017
The new fire protection standard EN 45545-2 for railway vehicles has been developed by the International Union of Railways (UIC) and various European countries. It is estimated that by the end of 2016 the national standards will be superseded by the new regulation. This means that from 2017 it will be mandatory that all new vehicles comply with EN 45545-2.