bauma 2016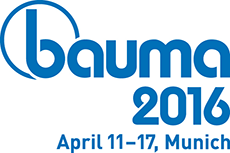 Sheaves, wear pads and outrigger float pads made from LiNNOTAM
Visit Licharz at bauma 2016 – the world's leading trade fair for construction machinery: April 11-17 in Munich, Hall A6, Booth 142.
Come and see our heavy-duty components for cranes and lifting equipment:
Sheaves, wear pads and outrigger float pads made from LiNNOTAM, LiNNOTAMGLiDE and LiNNOTAMHiPERFORMANCE 612 are able to withstand highest loads, are lightweight, wear- resistant and durable and in many applications can be used more efficiently than conventional steel materials.
Our bauma team with Andreas Weidenfeld, Hillmar Ullmann and Peter Engelschall is looking forward to your visit and exciting conversations we'll see you there!
Would you like to make an appointment? No problem! Simply send a message to This email address is being protected from spambots. You need JavaScript enabled to view it..
Complete details regarding our products for construction machinery can be found in our brochures "Crane and Hoist Technology" and "Bulk Material Handling Equipment" on www.licharz.com.