Flame retardant cast polyamides for railways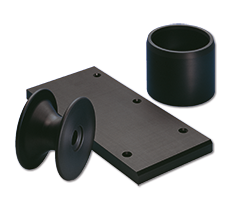 We presented our new engineering plastics for rail transport at InnoTrans 2016 in Berlin. Our focus: The use of flame-retardant cast polyamides in new and existing vehicles. Special additives ensure that these materials meet HL3 (Hazard Level 3) in accordance with the requirements R9 and R10. Your benefit: LiNNOTAMHiPERFORMANCE 600 FR LiNNOTAMHiPERFORMANCE 1200 FR complies with DIN 5510-2 and NFF16-101, the two national fire safety standards governing rail transport, and also EN 45545-2, the new European standard.
Flame-retardant cast polyamides for rail transport
"With LiNNOTAMHiPERFORMANCE FR we are one of the first cast polyamide manufacturers to have developed a flame-retardant engineering plastic for rail vehicles" explained application engineer Sascha Weber. "Our fire protection materials are tested in accordance with the standard and offer a good plastic solution for your applications in rail transport." LiNNOTAMHiPERFORMANCE 600 FR and LiNNOTAMHiPERFORMANCE 1200 FR is suitable for:
Bridge plates and slide plates
Slide rails
Rollers for door systems
Buffers
Drawbars
Switching equipment
Sealing strips and sealing plates
etc.
No risk to health
Make the most of proven Licharz properties. Like all cast polyamides in the LiNNOTAMHiPERFORMANCE brand our new plastics are lightweight, durable, hard but elastic and wear resistant. They are also an economically interesting alternative to laurinlactam-based materials such as PA12G. Another bonus is that LiNNOTAMHiPERFORMANCE FR is free of halogenated and inorganic flame retardants. That's because we do not use any substances that pose a concern to health and the environment.
These materials can be used in both new and existing vehicles
Consider this: LiNNOTAMHiPERFORMANCE FR can be used in all new and existing railway vehicles right now. It not only complies with the national standards DIN 5510-2 and NFF16-101, but also the new European Fire Protection Standard EN 45545-2. The new European standard is a harmonization of national standards and was initially only required for and applicable to new vehicles. Until recently the existing national standards were still applicable for existing vehicles. Good to know: From mid-2016 DIN EN 45545-2 is a valid, approved for use standard that must be complied with.