Licharz expands vocational training with commercial apprenticeships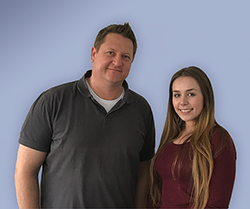 Here at Licharz, we have been offering apprenticeships for 25 years. Until recently, these programs were only offered in technical careers, but we now also provide commercial apprenticeships. Selina Wildemann is the first to take part in the commercial apprenticeship program, and has been part of our team since August 2016. Her apprenticeship lasts for three years, during which time she will work in all of the divisions in our company, including production, finance and accounting, logistics, purchasing, sales (component parts and semi-finished products), and much more.
Selina Wildemann – Part of the team
Our commercial apprenticeship attracted great interest, with Selina one of 50 applicants. "Right away we were certain that she was perfect for us, and that she would fit well into the team," says Thomas Köllgen, Director of Finance and Accounting. Selina first became interested in a career in the commercial side of industry through a friend. "I've done a lot of internships, but the commercial apprenticeship sounded really exciting," explains Selina. She was not disappointed. "What I love most about the apprenticeship at Licharz is that it is so varied," says the 20-year-old. Being the company's first ever commercial apprentice, Selina was at first unsure of what lay ahead, but any nerves were quickly dispelled. "Everyone has been very friendly towards me and the work is interesting. I'm looking forward to getting to know the various divisions in the company."
Apprenticeships at Licharz – A good choice
"She is our `golden girl´, our first commercial apprentice. Over the three years of her apprenticeship, we will take the time to train her properly," says Thomas Köllgen. As Licharz places such emphasis on training, Köllgen obtained a special permit from the local Chamber of Industry and Commerce that allowed the company to offer the commercial apprenticeship. "Young people often give us new impetus. Selina has been like a breath of fresh air here. The response from all the divisions has been fantastic," he said of his first apprentice. Her apprenticeship has also taught us the benefit of in-house training in commercial jobs, and we wish to continue along this path in the future.