Supply partnership with Manitowoc – A win-win scenario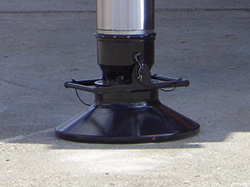 For mobile cranes, stability is vital. Our outrigger float pads, made from our LiNNOTAMHiPERFORMANCE 612 cast polyamide, have been a tried-and-tested solution in this demanding sector for many years. Here, they serve as a substitute for conventional steel pads. Other Licharz products used in cranes include sheaves and slider pads made from a special LiNNOTAM grade.
From supplier to partner
Licharz has been a component supplier to Manitowoc for decades. Over the last eighteen months, however, this supply relationship has become a true partnership. Today we develop and optimize components with and for Manitowoc. We currently have a prototype float pad model that will eventually replace an identically designed product. Licharz supports Manitowoc with testing, and conducts joint functional tests at their testing site in Wilhelmshaven under real field conditions. The checks aim to determine whether the Licharz float pads (and the technically modified version thereof) meet Manitowoc's technical supply conditions. "The approval tests were all positive," explains Andreas Weidenfeld, business development manager at Licharz. The tests have already resulted in some suggestions for design improvements, which will also result in lower costs for Manitowoc. "I'm confident that we will also be able to achieve excellent results with a simpler pad design in the future," says Weidenfeld.
The all-in-one package for happy customers
Manitowoc benefits from this partnership thanks to our constantly growing technical expertise. "Customers often choose a supplier superficially based on price. But in fact, it is often the service that is decisive," observes Andreas Weidenfeld. It is here that we see our biggest strength. Our partners in purchasing and technology confirm that customers value our service, in particular due to how it focuses on them and their needs. Looking at our supply partnership with Manitowoc, it is clear that this is a win-win scenario for both companies. Manitowoc gets an all-in-one package, while Licharz enjoys a stable customer relationship.