LiNNOTAM sheets – Always in form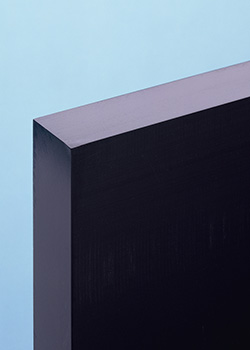 When a LiNNOTAM sheet is cast, the low-viscosity, monomeric material polymerizes in an upright metal frame. After hardening, the upper edge of this sheet displays shrinkage. The sheets undergo controlled cooling in special areas to prevent the formation of internal stress. Due to the process, however, it is not always possible to completely prevent uneven shrinkage.
Dimensionally stable and plane parallel for any challenge
For this reason, Licharz always trims its LiNNOTAM sheets on all four sides and planes them on top and bottom. This gives our customers a low-tension semi-finished product at no extra cost, with precise dimensions, no sharp edges, and plane-parallel surfaces. They can then machine the sheets directly, even on a vacuum table.
Easy and efficient machining
Cast polyamide sheets can be machined to make all kinds of design components for machinery and systems. "The LiNNOTAM sheets we deliver are always within the specified dimensional tolerances and are generally planed, as this makes subsequent machining easier," explains Frank Wagemann, sales team leadern for semi-finished products. This allows Licharz customers to benefit from shorter machining times and a more efficient process when manufacturing machine components.
Would you like to find out more about our LiNNOTAM sheets? Then get in touch with our sales department for semi-finished products.