New faces in the Licharz sales team – Sales Manager Wolfgang Nägele and field sales consultant Thomas Markel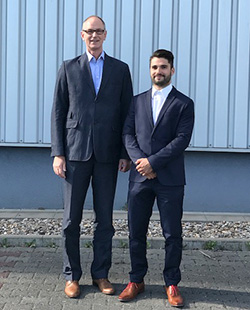 Licharz is aiming to better exploit its market potential and further internationalize its business. The foundations for this move were laid in April 2017 with the appointment of Wolfgang Nägele as new Sales Manager. His predecessor in the role, Andreas Weidenfeld, is now focusing his efforts on business development. Together, the two are intensifying key account management at an international level. There is another new addition, Thomas Markel, who took over responsibility for our southern sales office in July 2017.
Wolfgang Nägele – A businessman with a feel for technology
55-year-old Wolfgang Nägele has everything that a Sales Manager needs at Licharz. After studying business management, he spent his entire career in technical customer service and has over 30 years of experience in sales. "I have a good affinity with technology. I've sold all kinds of materials: steel, brass, tungsten, molybdenum and plastics, which customers use to produce component parts based on my input," says Nägele. By listening closely and responding to customer needs, Nägele has been able to become acquainted with every area. His work in the last six years, for example, gave him experience in cast polyamide. This is the perfect skill set for a successful start at Licharz. "Selling LiNNOTAM, whether as a finished or semi-finished product, is perfect for me," says Nägele with a smile.
Sales Manager = organizer + communicator
As Sales Manager at Licharz, Nägele sees himself first and foremost as an organizer and communicator for the 25 members of his team: "It's my job to make sure that our customers get excellent service. We can only achieve this if the people in my team can work to the best of their ability. Once that is in place, everyone is happy and successful, especially the customers of course." Together with Andreas Weidenfeld, Nägele stays in direct contact with major customers at an international level. Nägele lives with his family in the Allgäu region of southern Germany. Fittingly, he will also take personal responsibility for part of our customer base in Austria and Switzerland.
Thomas Market – A mechanical engineer with experience of plastics
Thomas Markel took responsibility for the southern sales office in Würzburg, which covers the Bavaria and Baden-Württemberg regions. The 27-year-old mechanical engineer is the successor to Peter Engelschall, with whom Licharz enjoyed successful cooperation for many years. Markel brings plenty of technical experience in plastics to his new role in our sales team. After having spent three and a half months undergoing technical training at our company headquarters in Buchholz, he knows just what Licharz products are capable of. Having been eased into his new job by his predecessor, Markel is now looking forward to the challenge: "I see myself as more of a consultant than a salesperson, and I really enjoy the personal contact with our customers. My aim is to take technical consulting up another level. Together with the sales team in Buchholz, I think we can do this."
Part of the team
After a few months at Licharz, both of the new additions were impressed by the company's team spirit. Alongside the friendly atmosphere and the wide variety of tasks, they also praised the team's openness to new ideas and developments. Wolfgang Nägele and Thomas Markel have quickly found their place at Licharz. We look forward to great cooperation between our two new colleagues and you, our customers.